SharePoint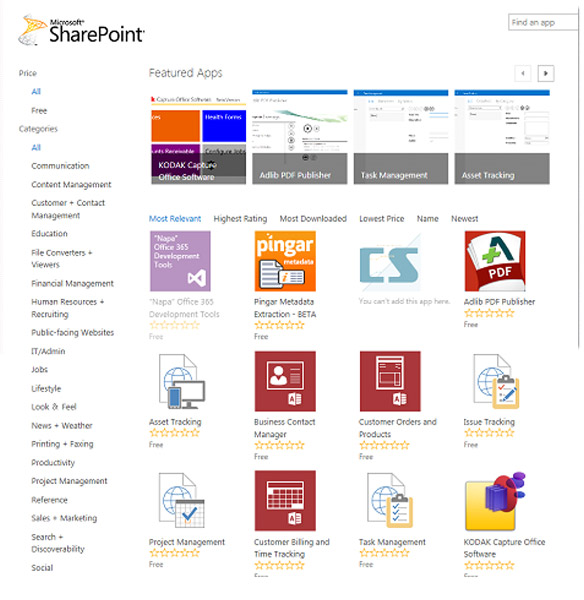 Microsoft SharePoint makes it easier for people to work together. Using SharePoint, your users can set up sites to share information with others, manage documents from start to finish, and publish reports to help everyone make better decisions.
Documents, people and more!
Content can be created and people can easily collaborate. It makes it simple to share documents with colleagues, manage projects with partners and publish information to customers – making sure everybody is in sync.
Out-of-box ready
SharePoint requires no expertise or knowledge to make fully collaborative sites. With built in tools, templates and drag-and-drop web parts – it's easy to create do-it-yourself business solutions that match your needs.
Easy to access information
SharePoint Insights gives everyone access to the information in databases, reports and business applications, helping people locate the information they need to make good decisions.
Bring people together
SharePoint brings people together on a single platform, with great collaboration tools making it easy for people to share ideas and work together in the way that they want.
View and share documents
Content management is easy with SharePoint, documents can be accessed anywhere and even viewed and shared directly from a web browser.
Powerful search function
Documents are easy to find with a powerful search engine, helping users find the documents and contacts they need quickly.
Anywhere access
You are able to read and edit documents from most web browsers, and view documents on your phone – removing the need for printing or being in the office to access documents.
Document control
Documents can be easily accessible, but also controlled with features such as document types, versioning, retention policies, check-in procedures, authorisation and automatic content sorting.
Easy to use
The Ribbon feature found in Office apps is featured in SharePoint, allowing you share, edit and personalise from one familiar toolbar.