Office 365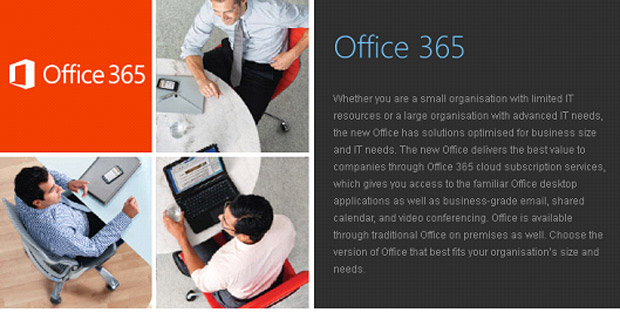 Microsoft Office 365 for professionals and small business is a hosted service that combines email, collaboration, office applications, online conferencing and messaging. Office 365 combines Exchange Online, SharePoint Online, Lync Online and Office Professional.
Microsoft Office
Office 365 adds more power to the Office you already know and use by making it easier to communicate and collaborate with others.
Email and calendars
Access your email and calendar from your computer, the web, tablets and smart phones.
Office Web Apps
Create, store, and edit Office documents directly from a web browser without the need to download software.
File sharing and managing projects
Share documents and collaborate with colleagues online, giving them the ability to access it anywhere and anytime.
Instant messaging, presence, and conferencing
Connect immediately with colleagues and associates, chat and set up online collaborative meetings instantly.
Mobility
Get virtually anywhere-access on nearly any desktop or mobile device so you can be productive on the go.
Security and trust
Microsoft helps keep your data safe and private with secure data centres and high level of encryption.